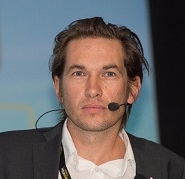 Mael's role is to develop sustainable strategies for sport in France, to co-ordinate with over 70 French sporting federations and to work with all key players involved in order to change the culture of sport from retailers to manufacturers to supporters. Mael is now in his sixth
Pierluigi Zacheo is the Founder of MyStadium, a sustainability consultancy offering strategic advisory services to organizations operating in the sport /events industry. He holds an MSc in Engineering Business Management and he is specialised in Strategic Leadership and Change Management.
In his 10-year experience, he actively contributed at the development of British and International Standards on Sustainability (including the ISO 20121, the international standard for event sustainability inspired by London 2012 Olympic and Paralympic Games) while sitting on several committees as a nominated BSI – UK expert. Since 2011 he is a member of the British Standards Society, the UK standard users' organization that shares and develops good practice in the use of British Standards and contributes to British Standards development and implementations.
Pierluigi has also collaborated in 2015, as a nominated sustainability expert, at the development and delivery of the innovative "Stratégie Nationale de Transition Ecologique vers un Développement Durable du Sport" on behalf of the French Ministry of Ecology, Sustainable Development and Energy, and of the French Ministry of Sports and Youth.
In 2016, while working as Sustainability consultant on behalf of Formula E (the world's first electric and sustainable street racing series), he successfully contributed at the implementation and 1st party ISO 20121 certification of the Formula E - VISA London ePrix. He is currently co-leading the Sustainability team that is developing the ISO 20121 management system for the Formula E - World Championship series.
Pierluigi has also proactively contributed, as a Founding Committee Member, at the creation and launch of Sport and Sustainability International (SandSI), a not-for-profit organisation that aims to become the world's most inclusive and influential sustainability network for sports federations, leagues, clubs, venues, businesses and fans seeking to address climate change and other pressing social, environmental and ethical issues. He was elected Special Advisor to the Board in May 2017.
year at the ministry and he has a background in organising sporting events on a national and global scale and in organising research expeditions.