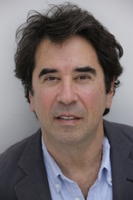 Dr. Allen Hershkowitz is an environmental scientist, visionary, activist, lecturer and strategic advisor. For 26 years he served as a Senior Scientist at the Natural Resources Defense Council (NRDC) and was the force behind some of the organization's most effective and visible initiatives.
Dr. Hershkowitz a Founding Director of Sport & Sustainability International, bringing together the world's leading sports federations, teams and venues to use their market and cultural influence to create sustainable, healthy and just communities. Dr. Hershkowitz also co-founded and served as President of the Green Sports Alliance. In December 2015 Sports Business Journal listed him as one of the "50 Most Influential People in Sports Business," and in March 2016 Worth magazine listed him as one of "The 60 Most Powerful People In Sports."
Dr. Hershkowitz created the sustainability programs at numerous professional sports leagues and teams throughout North America, including for the Major League Baseball, the National Basketball Association, the National Hockey League, Major League Soccer and the US Tennis Association. He continues to serve as sustainability advisor to those organizations and also advises many other sports organizations, teams and venues.
As a pioneer and leader in the movement to make environmental responsibility understandable and achievable for every individual and institution, he has served as environmental adviser to corporations such as Delos, Dupont and Disney, the Academy of Motion Picture Arts and Sciences' Oscars awards, the GRAMMY Awards and the Broadway Green Alliance, which he co-foundered. Yoga + Joyful Living Magazine described him as "The Godfather of Greening" in 2009.
Dr. Hershkowitz's thought leadership and advocacy have shaped public policy at the federal and international level and has won him awards from the US EPA, and numerous environmental organizations. An enormously popular keynote speaker, he lectures worldwide at conferences and universities, on media such as CNN, ABC, NBC, CBS and NPR, and is regularly quoted in the global media. During the 2014-15 academic year, he served as Distinguished Visiting Professor in Sustainability Management at the Presidio Graduate School.
Dr. Hershkowitz is the principal subject of the book "Tilting at Mills: Green Dreams, Dirty Dealings and the Corporate Squeeze" by Lis Harris, a book on sustainable industrial development, published by Houghton Mifflin in March 2003. His work has been the subject of numerous profiles and feature articles including lengthy features about his work in The New Yorker (July 1995), Mother Jones (July 2015), "Sustainability" Magazine (featured him on its cover in December 2008), Audubon Magazine, Yoga + Joyful Living other magazine.
Dr. Hershkowitz has received awards and recognition from the U.S. EPA, the American Institute of Architects, Scenic Hudson, the California Resource Recovery Association (lifetime achievement award), the Natural Resources Defense Council and numerous other organizations. He served on the board of the Westchester Land Trust and on the editorial board of OnEarth magazine from 2006-2008.
A native of New York, Dr. Hershkowitz received his Ph.D. in political economics, specializing in energy resources economics, from the City University of New York Graduate School in 1986. He earned a M. Phil. in political economics in 1982, a B.A. (cum laude) from the City College of New York in 1978 and a Certificat D'assiduite from the University of Grenoble in 1975. He shares his time between his home in New York State, Europe, and California and is the father of three children.